Volmer VJ - 22 Sportsman - Background
Flying from water is one of my favorite things about RC, and my little 49" Goose is my favorite model to fly. But after 7 years of loyal service, I started thinking about a replacement for the Goose in case something bad happened.
After a bit of searching, an unexpected subject popped up. The VJ-22 Sportsman was a homebuilt amphibian designed by Volmer Jensen in 1956. Jensen, well-known in the sailplane and hang gliding world, built the first Sportsman for himself as a means of accessing diving spots. After fielding numerous requests, Jensen began selling plans to pilots wanting to build their own waterplanes. Around 1000 plan sets have been sold over the years, and over 100 aircraft have been completed.
The qualities that made the Sportsman successful were aligned with the goals of my smaller project: it was both inexpensive and easy to build. The full-scale Sportsman was designed around the rectangular wing of an Aeronca Champion or Chief. The lines of the fuselage are simple and smooth. A small motor housed in a simple cowling is perched on struts overhead and out of the water spray.Another attraction is the myriad of modifications that full-scale builders have applied to their Sportsmen. Most are pusher-props while others are tractors. Tail feathers vary in shape, with some having T-tails. The standard configuration has hand operated landing gear, but skiing Sportsman can be found. And of course, the paint scheme on every hand-built Sportsman is unique.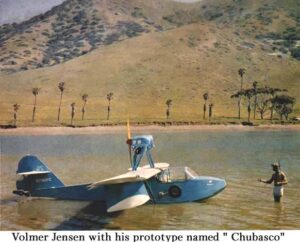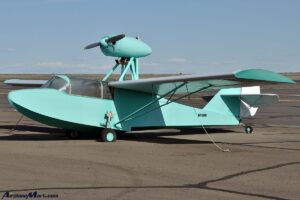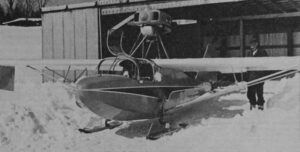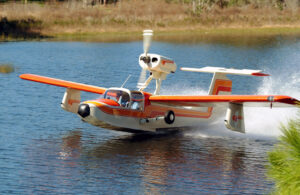 Wingspan 50"
Length 32.0"
Weight 29.5oz
Wing Area 178.8 sq in
Power FMS L2210A 1650kV
Propellors 7 x 6 APC
Battery 3S 2200mAh